ONLINE PAYMENT NOW AVAILABLE!
Youth families will be able to pay online via checking account EFT or debit/credit card for youth events! The link to do so can be accessed by clicking the green "Make a Payment" button above. A small fee is reflected in the registration price for each event to cover costs incurred for this convenience.
YOUTH CALENDAR OF EVENTS
April 21, 2021: Jr High Camp Night
April 28, 2021: High School Game Night
May 2, 2021: Confirmation Sunday
May 23, 2021: Youth Gathering Info Meeting
June 19-27, 2021: Florida Mission Trip
July 11-14, 2021: National Lutheran Youth Workers Conference & YouthLead Conference in Houston
October 1-3, 2021: JOY Jr High District Gathering at Camp Lutherhoma
October 29-30, 2021: C.L.A.S.S at Concordia-Nebraska
July
9-13
, 20
22:
National Youth Gathering in Houston, TX
YOUTH FORMS
Click a link below to download and print at home:
Jr High Youth 6th-8th Grade
High School Youth 9th-12th Grade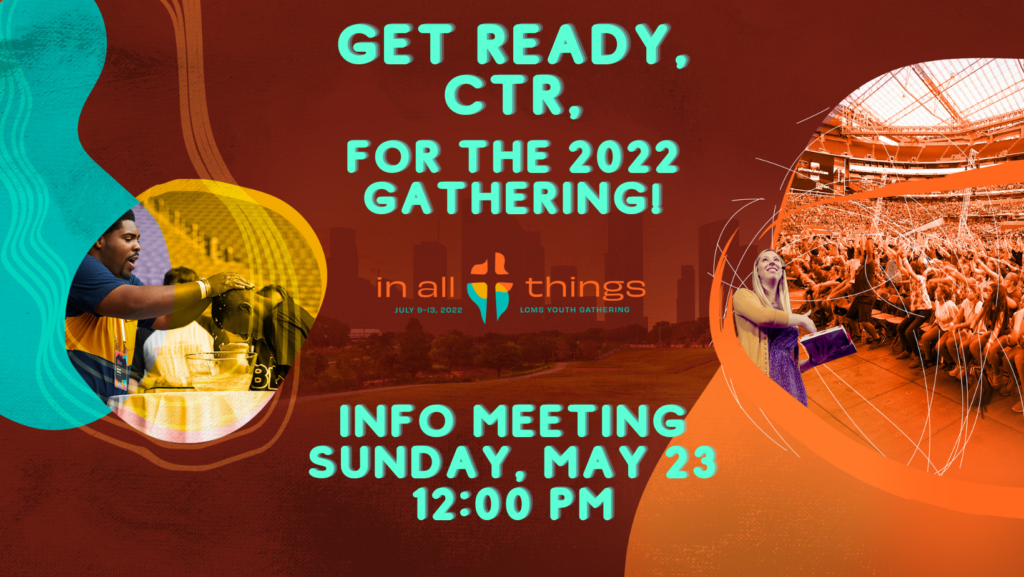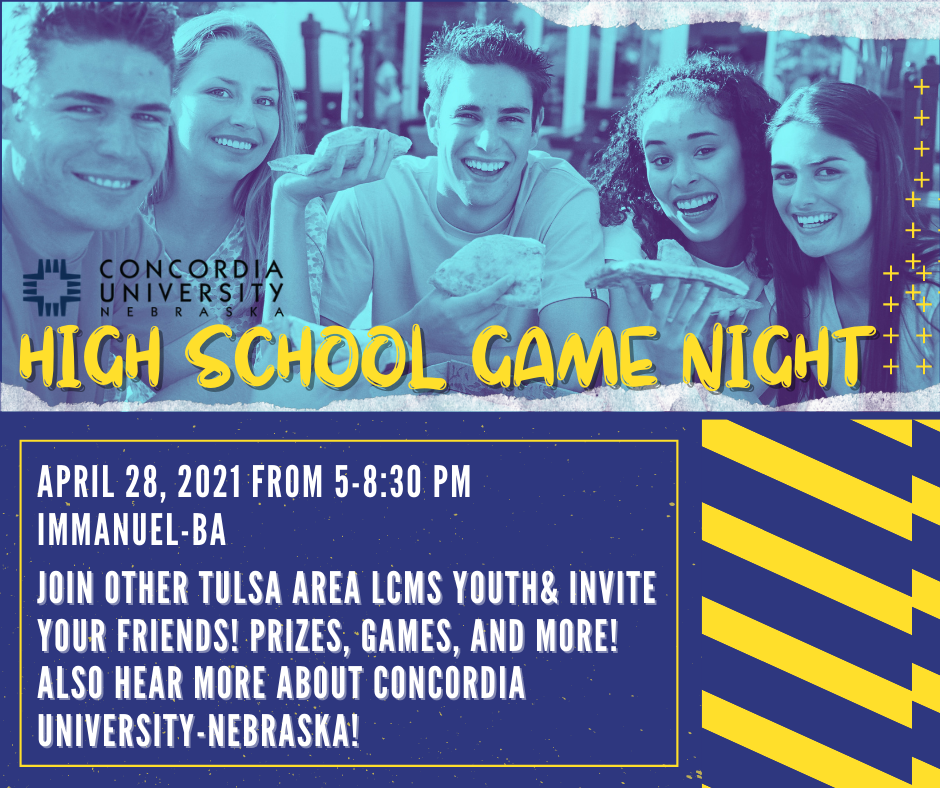 High School Students! Join other Tulsa area LCMS youth at Immanuel-BA on Wednesday, April 28 from 5-8:30 PM! Friends invited & prizes!!
Come early from 5-6 PM to enjoy air hockey, pool, rumble ball pit, 9 square in the air and more! Starting at 6 PM we'll have dinner, devotions, games and more sponsored by Concordia University- Nebraska! Lori Johnson, an admissions rep, will also be there with info if you want to know more about CUNE. Sign up with DCE Suzanne by 4/26.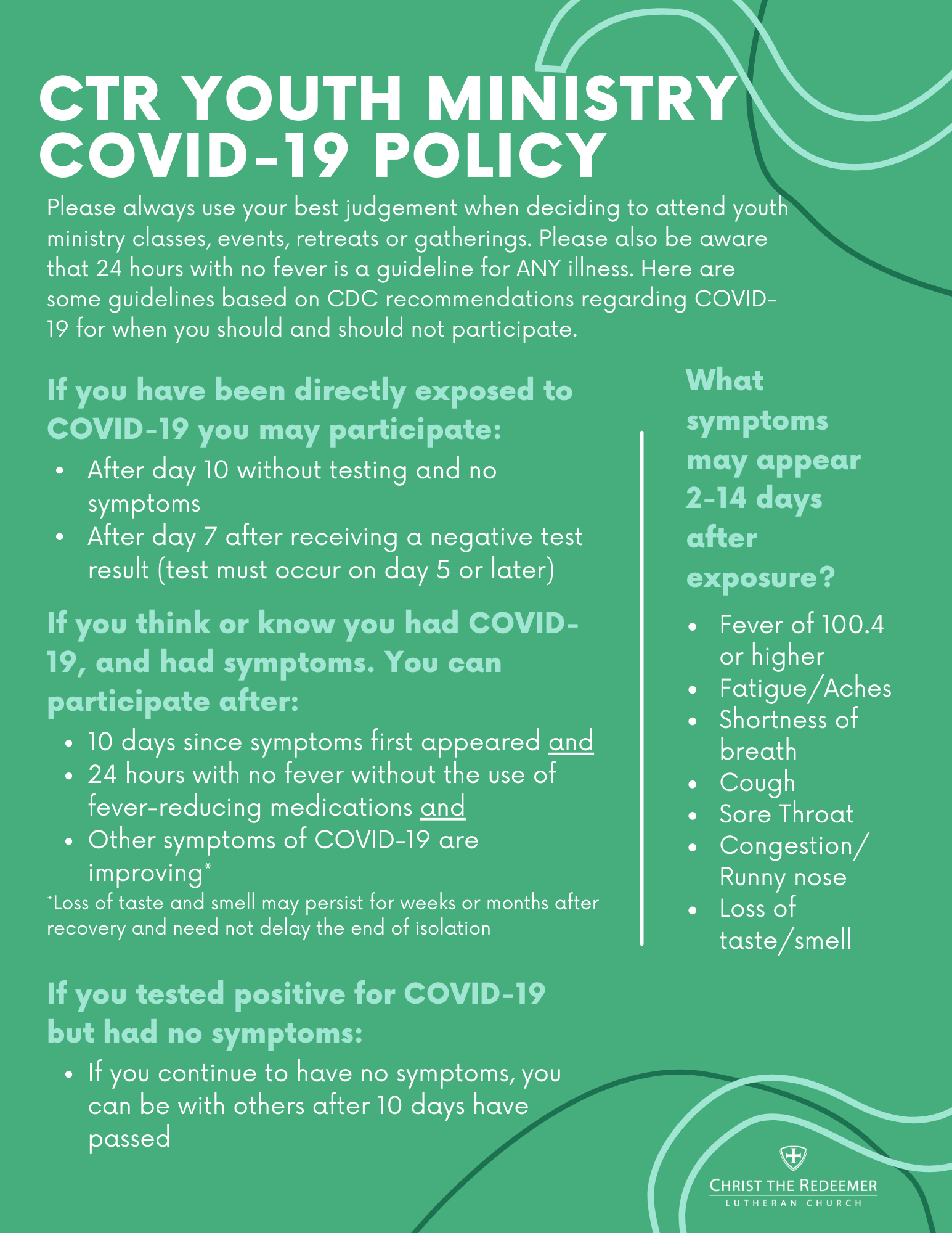 CTR YOUTH SUMMER MISSION TRIP IN SANTA ROSA BEACH, FL MOVED TO JUNE 2021
Rescheduled trip for June 2021 and Hope on the Beach in Santa Rosa is also excited about that opportunity. We will leave Tulsa June 19 and return to Tulsa June 27 with a stay in Florida from the 19-26 and an extra day for travel back. This would put us hosting VBS there June 21-25, 2021.
Parents and families, please email DCE Suzanne back as soon as possible and let her know where you stand as far as considering next summer so we can determine which youth are planning to still attend and if spots are open that we need to fill.
All youth attending must turn in the following items:
1) Trip Registration Form
2) 2021 Medical and Permission Form Packet
Take a look at a few of our Events from LAST year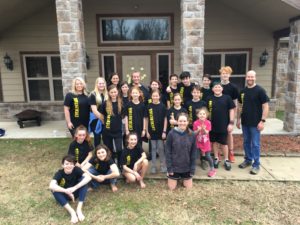 2019 Tulsa Area LCMS LaserQuest Lock-in

2019 Junior High Christmas party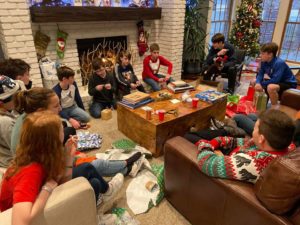 Youth Sunday School & Confirmation Classes
YOUTH SUNDAY SCHOOL CLASSES
For high school youth each Sunday
9:30-9:50- Breakfast and Fellowship
9:50-10:30- Small Group Study in the Church Office
Led by David Ross, Lindsey & Nathaniel Rake
For junior high youth youth each Sunday
9:30-9:40- Breakfast and Fellowship
9:40-10:30- Confirmation Class in the Library
Confirmation Classes 2020-2021
Students have TWO options for class times this year. Because of the exciting, active construction project at CTR we will be slightly creative with our course schedule this year.
Class options are:
Sunday School from 9:30-10:30 am for 6th grade – 8th grade beginning September 13
Completed at home with monthly Sunday check-in nights from 3:00-5:00 pm for 6th grade and up
Students eligible for classes may attend one or both class time offerings because each class will be a different course each lasting differing lengths of time. Rather than a set confirmation class schedule each individual student and their family will be able to build their class time around their individual needs and time constraints.This means the length of time a student takes to complete all the requirements will vary for each and no longer be a set number of years as it was in the past.
Please contact DCE Suzanne if you plan to have your child take ONE (specify which) or TWO classes and she will send you the appropriate books or make them available for you to pick up at CTR. Coursework begins this month (August) at a suggested pace, but you may work as quickly or as slowly as you need to; however, work for Sunday night check-ins must be completed PRIOR to that check-in night.
Thank you for your support, and please keep your children and the ministry of Christ the Redeemer in your prayers.
SUNDAY AM CLASS
30-Lesson Bible Overview
(Green Workbook)
9:30-10:30 AM in the Church Library.
Please bring your workbook, folder, and Faith Alive Bible.
SUNDAY PM CLASS
60-Lesson Small Catechism
(Blue Workbook)
Next class is 3:00-5:00 PM on September 27 in the Fellowship Hall.
Please bring your workbook, folder, Faith Alive Bible and Luther's Small Catechism.
National LCMS Youth Gathering

What is the theme for the 2022 LCMS Youth Gathering?
The theme for the 2022 LCMS Youth Gathering is "In All Things" and is centered around Colossians 1:15-20.
When and Where is the 2022 LCMS Youth Gathering?
The next LCMS Youth Gathering will be July 9-13, 2022 in Houston, TX.
What is the LCMS Youth Gathering response to COVID-19?
We are proceeding with planning toward a 2022 Youth Gathering. We are in continual conversations with the City of Houston, government officials and Synod leadership monitoring the developments of COVID-19. We will make decisions with the highest priority of safety and care of Gathering participants. It is out prayer that God would continue to lead us through this time of uncertainty and give us wisdom when presented with new information.
What Are the Age Requirements for Participants?
The LCMS Youth Gathering's primary focus is for youth participants between the ages of 14 to 19. To register for the 2022 Gathering, youth participants must meet ONE of the two following eligibility requirements:
– Must be 14 years old at the time of the Gathering
OR
– Entering his or her ninth-grade year at the time of the Gathering.
While we do allow students from the ages of 14 to 20 to attend, please keep in mind that some of the program content may not be relevant to older youth participants.
When Does Gathering Registration Open?
Registration for the Gathering will open with opportunities to enter data (tentatively September 2021) and then an officially open registration in October 2021.
The Gathering registration fee is $395 per participant. This fee covers all Gathering program and Office of National Mission Youth Ministry administrative costs and secondary insurance for all participants. Hotel, travel and meal costs are not included in the registration fee.
After March 2, 2022, participants will continue to be admitted to the Gathering on a space available basis for the late registration fee of $450.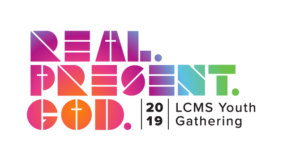 The next LCMS Youth Gathering will be in 2022 in Houston, TX!
Registration will open in Fall 2021.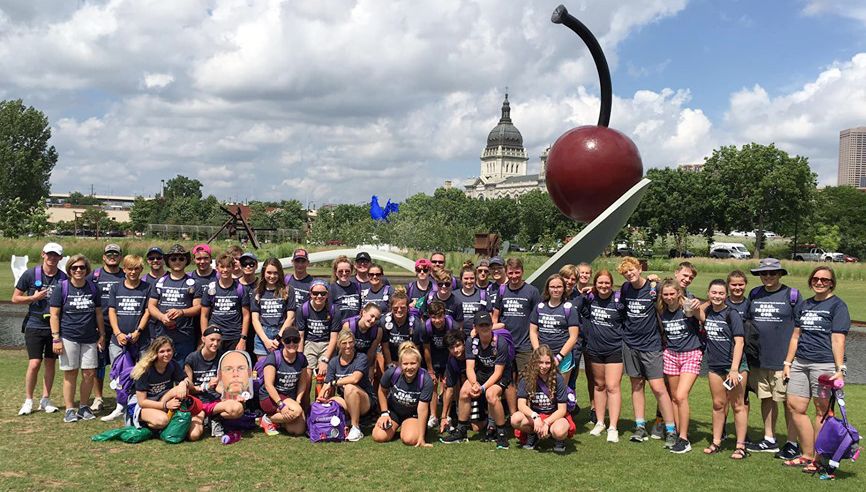 Awesome pic from 2019's LCMS Youth Gathering.