For the Instagram follow: ctrtulsa or click
HERE
For the Twitter account use: @PastorBe_CTR
NEWSLETTER: Check the church website to read the online newsletter.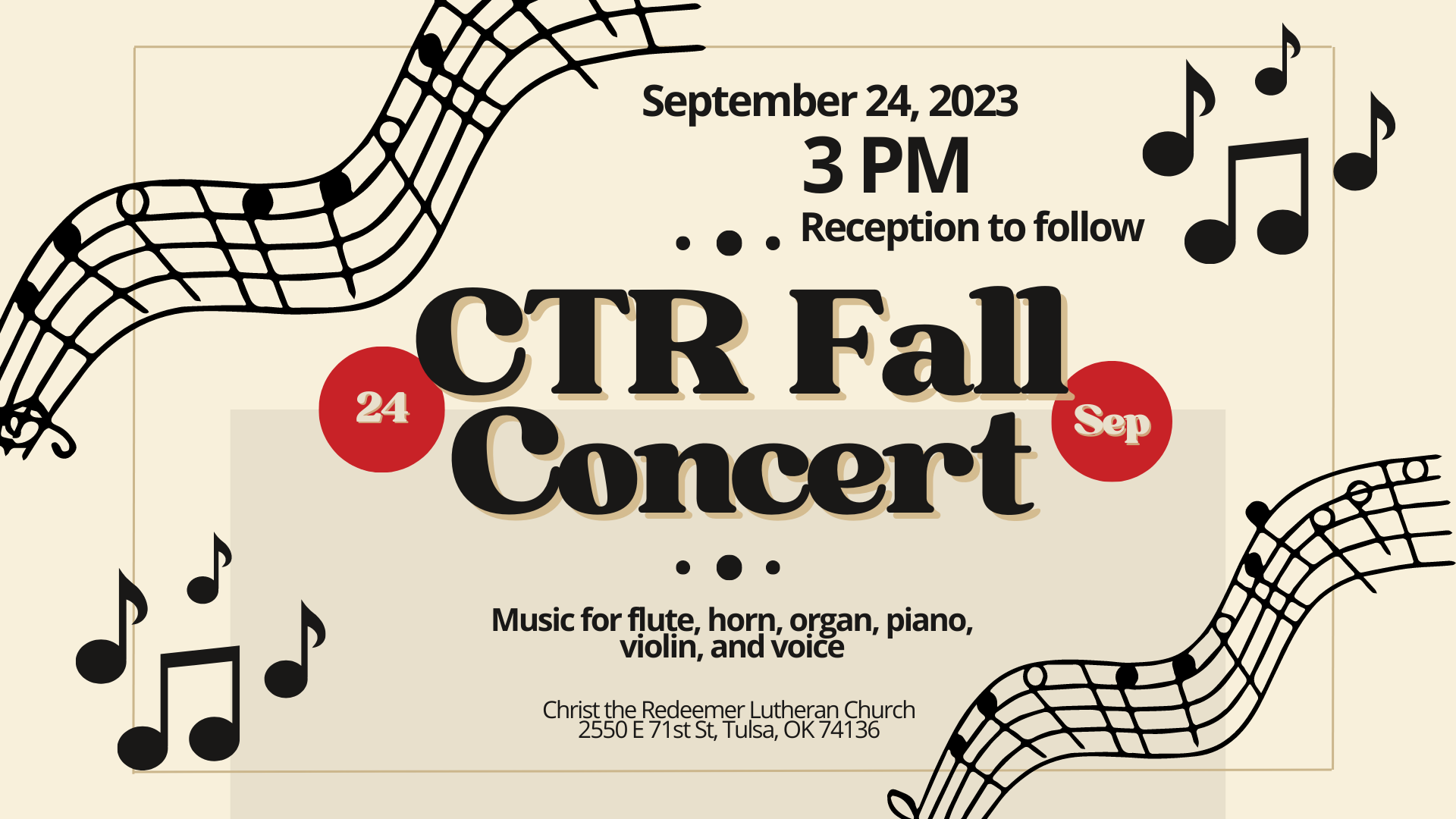 GIVING:Below are options for sending in your tithes and offerings to CTR:
Smartphone: You can contribute through Vanco Mobile, our mobile giving app. Go to the App Store or Google Play to download it for free.
Online

: Click

here

to sign up through Vanco for one-time or ongoing offerings or donations. This allows you to set up weekly, bi-weekly or monthly giving.

Vanco Client Services: Call 1-800-675-7430 to give your offering for CTR by phone.
Mail: You

can

mail your offering in your offering envelope to the church office: 2550 E. 71stSt., Tulsa, OK 74136
STUDENT LOAN REPAYMENT FUND
Pursuing a career in service to the Lord through the church is a fulfilling opportunity, but it is not an inexpensive choice. Those who pursue professional church work many times incur educational debt, just like anyone else may do. Repayment of educational debt is often made more difficult by the more modest salaries of church workers, compared to other professions.
In order to encourage and retain our professional church workers here at Christ the Redeemer, several years ago the congregation established a fund to assist our Pastors, DCEs and other synodically-trained church workers in repaying their student loans. This fund relies on the donations of our members here at CTR. The fund is currently in need of additional funds. Please prayerfully consider a designated donation to this cause. You may place your gift in the weekly offering with a designation of "Student Loan Fund" or you may give your gift directly to one of the Elders, and we will ensure that it is deposited in the correct fund.
Thank you for your past generosity and for ongoing support.
– Jim Holt, Elder Chair
The Ministry of Outreach is forming a committee for this coming year. If you would be interested in serving on this committee, please contact Chairman of Outreach Ministry, Patti R. to find out more information. Prayerfully consider volunteering your service to Christ the Redeemer as we reach out to the unchurched and enable our members to serve others.
Handbell Rehearsals – Mondays 7:00 p.m. – 8:00 p.m.
Choir Rehearsals – Wednesdays 7:00 p.m. – 8:30 p.m.
Contact Jacob for more info.
Youth Band will meet Sunday afternoons (Contact DCE Nikki for rehearsal time)
All youth and young adults interested in joining who currently play an instrument, have interest in playing an instrument or would like to sing are invited. The band will help lead Sunday School opening as well as play for special church events.
CHILDREN'S SUNDAY SCHOOL:. In-person classes in Fellowship East. Opening in the Fishbowl for all ages then children divide into classes: PreK/K, 1st & 2nd, Club 345 along the East Addition
JUNIOR HIGH SUNDAY SCHOOL: In-person with Confirmation/Sunday School class at 9:30 in the Jr High Room led by DCE Suzanne.
HIGH SCHOOL SUNDAY SCHOOL: In-person with David R & Tim K in the High School Room.
PASTOR'S ADULT SUNDAY SCHOOL: In-person and livestreamed class at 9:30 in Fellowship East.
Life By His Word Adult Sunday School: In-person in Fellowship East Classroom 2 led by Steve S
WIRED WORD Adult Sunday School: In-person in Fellowship Northeast Classroom
WIDOW/WIDOWERS' BIBLE STUDY Wednesdays at 10:00 a.m. in the 2nd Floor Office Conference Room led by Pastor B
WOMEN'S BIBLE STUDY
meets Tuesdays at CTR at 10:00 a.m.
WOMEN'S BIBLE STUDY
Oddballs of the Bible: How Did HE (or SHE) Get In God's Word?
meets Fridays at church from 9:30 – 11:00 all summer.
pattirossvp@gmail.com
CONSTRUCTION PHOTOS
can be accessed through the
BUILDING
page of this website and through the Construction album on the
CTR Facebook page
.