ONLINE PAYMENT NOW AVAILABLE!
Youth families will be able to pay online via checking account EFT or debit/credit card for youth events! The link to do so can be accessed by clicking the green "Make a Payment" button above. A small fee is reflected in the registration price for each event to cover costs incurred for this convenience.
YOUTH CALENDAR OF EVENTS
October 2-4 2020: Joy Jr High Gathering
October 25, 2020: Confirmation Sunday
November 20-22, 2020: Fall Force Camp
January 15-17, 2021: Journey in January High School Retreat
June 2021: Florida Mission Trip
YOUTH FORMS
Click a link below to download and print at home:
Jr High Youth 6th-8th Grade
High School Youth 9th-12th Grade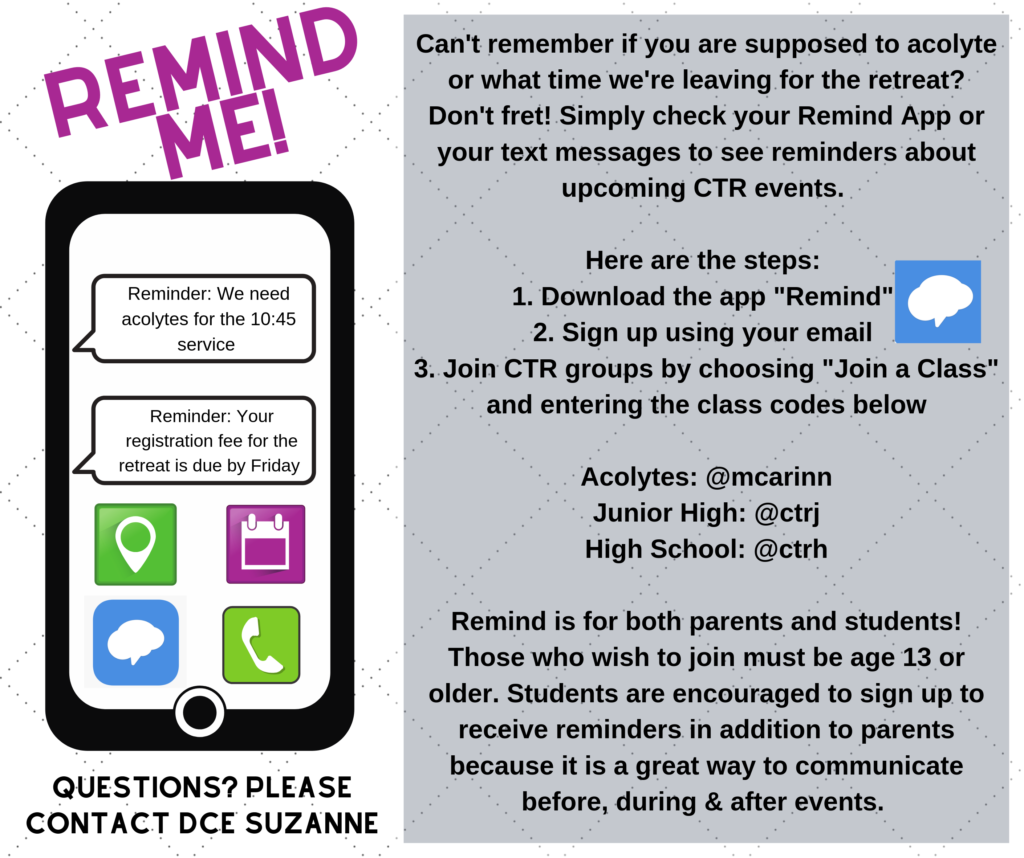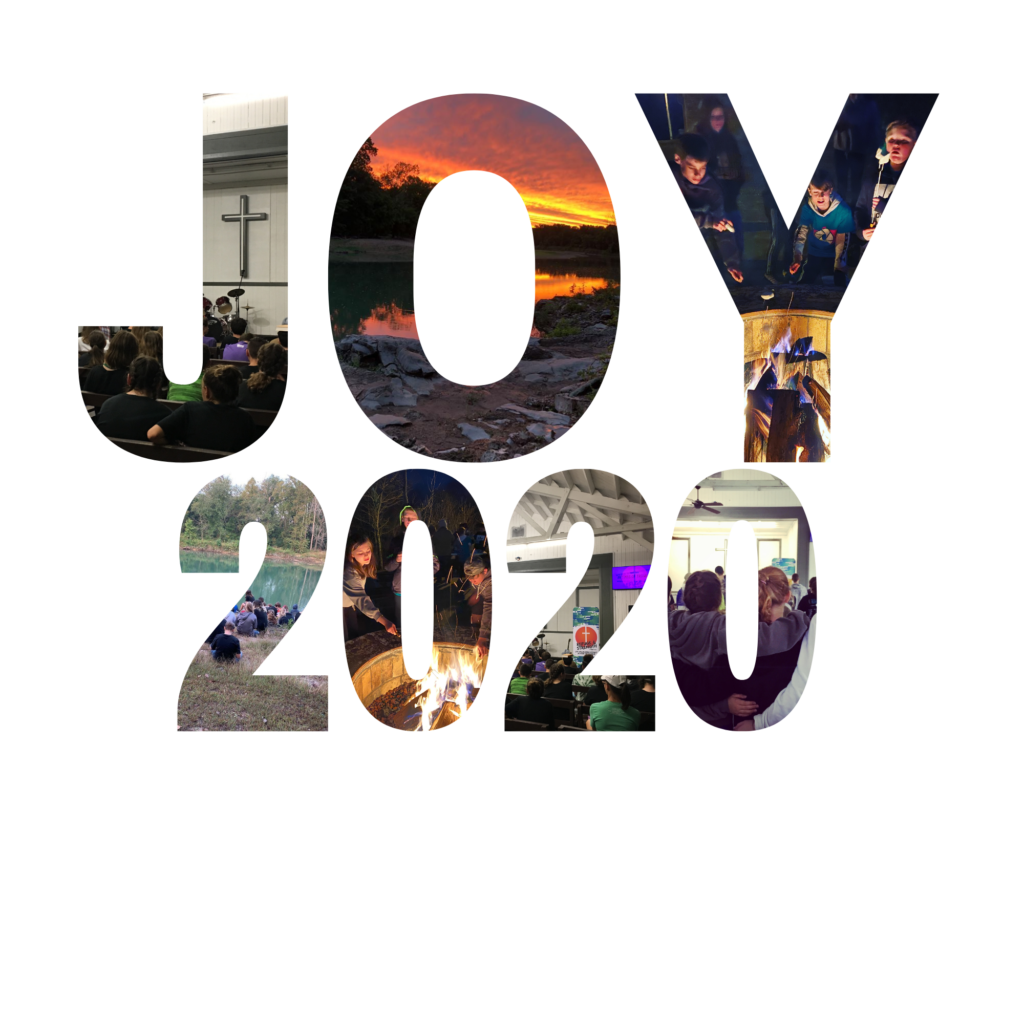 JOY District Event for 6th-8th grade students at Camp Lutherhoma. The event will be October 2-4, 2020. We will leave Friday evening and return on Sunday. We will not be stopping for lunch on the way home Sunday so we will be home earlier than normal.
This year's event will be VERY DIFFERENT due to COVID-19:
1) Church groups will be contained regarding housing and activities.
a. CTR youth, adults and high school leaders will stay together and not share rooms with any other church group
2) A document will be provided for group leaders on recommendations and protocol before coming to camp. It will be along the lines of self-monitoring in the weeks and days leading up to the event. You WILL be screened at CTR before we leave town. If you have a ever, cough or other active symptoms of possible COVID you will not be allowed on the van. There will also be a screening upon check in at Camp and daily screenings during the event. Our adult chaperones will be asked to assist in daily temperature checks and monitoring questions for the youth in our group.
3) Summer staff will potentially act as leaders for small group activities we will not utilize high school leaders as we have in the past. We will still bring High school students from our church to assist our group. They will be registered with our group and housed with our group as a "junior counselor" for our group only.
4) Face masks will be required for all youth and adult participants during activities that require speaking/singing. No exceptions.
5) Joy will look different, we will have less large group activities, not have as many small group activities and will incorporate more traditional camp activities and programming. During "free time" our group will have to remain together or in our assigned sleeping space.
6) The Registration pricing information will be as follows:
Registration: Due by September 13, 2020
All participants from a congregation must register for the same type of cabin.
• $100.00 per youth participant for Pine or Aspen Retreat Cabin two-night stay
• $50 per LCMS congregation guest participant (non-church member friend of youth who has not attended previously, please note that if you invite a friend you will be expected to communicate all screening protocols to their family)
• $30 per High School counselor for your youth group
CTR YOUTH SUMMER MISSION TRIP IN SANTA ROSA BEACH, FL. MOVED TO JUNE 2021
After much deliberation and conversation with families, we have some to a decision regarding the 2020 Florida Mission Trip.
The current facts are these:
1. We are still in the early phases of reopening in both Oklahoma and Florida and unsure what the coming weeks hold.
2. As of today, Florida still has a ban on short term rentals, which we would be utilizing for our stay. The current band is "indefinite" and can be lifted at any time, but could go easily into July.
3. We are not sure a VBS is an option anymore due to social distancing and limitations on the number of people who can gather. (We have decided to postpone our own VBS at CTR that was to be June 8-12.)
4. We must consider what would happen if any member of the group became ill during the trip and how we could safely care for them and the rest of the group. It would be difficult to guarantee group members do not bring illness with them unless they quarantined for 2 weeks pre-trip.
5. There is a lot we just don't know. And while we want to take things on faith, we also know that we must be smart and diligent. The majority of our group are minors and we want to consider everyone's safety.
Therefore, we are going to cancel the summer trip to Florida. We have contacted the condo companies and asked what we can do about the money we have already paid in as deposits on the 3 units. Both companies have offered to let us move the money forward up to 18 months for a future trip at no loss.
We would like to suggest we reschedule the trip for June 2021 and Hope on the Beach in Santa Rosa is also excited about that opportunity. Likely the same week of the month, leave Tulsa June 19 and return to Tulsa June 27 with a stay in Florida from the 19-26 and an extra day for travel back. This would put us hosting VBS there June 21-25, 2021.
Again, we are sad that this decision had to be made, but pray that God would work in our communities in the coming days, weeks and months and lead us to a new opportunity next summer. Parents and families, please email DCE Suzanne back as soon as possible and let her know where you stand as far as considering next summer so we can get back in touch with our rental companies as well as Hope on the Beach regarding this plan.
All youth attending must turn in the following items:
1) Trip Registration Form
2) 2020 Medical and Permission Form Packet
Take a look at a few of our Events from LAST year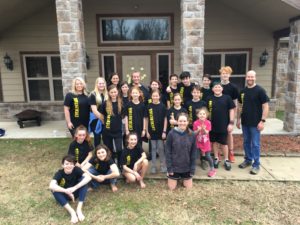 2019 Tulsa Area LCMS LaserQuest Lock-in

2019 Junior High Christmas part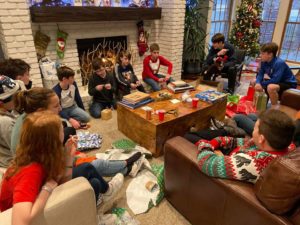 Youth Sunday School & Confirmation Classes
YOUTH SUNDAY SCHOOL CLASSES
For high school youth each Sunday
9:30-9:50- Breakfast and Fellowship
9:50-10:30- Small Group Study in the Church Office
Led by David Ross, Lindsey & Nathaniel Rake
For junior high youth youth each Sunday
9:30-9:40- Breakfast and Fellowship
9:40-10:30- Confirmation Class in the Library
Confirmation Classes 2020-2021
Students have TWO options for class times this year. Because of the exciting, active construction project at CTR we will be slightly creative with our course schedule this year.
Class options are:
Sunday School from 9:30-10:30 am for 6th grade – 8th grade beginning September 13
Completed at home with monthly Sunday check-in nights from 3:00-5:00 pm for 6th grade and up
Students eligible for classes may attend one or both class time offerings because each class will be a different course each lasting differing lengths of time. Rather than a set confirmation class schedule each individual student and their family will be able to build their class time around their individual needs and time constraints.This means the length of time a student takes to complete all the requirements will vary for each and no longer be a set number of years as it was in the past.
Please contact DCE Suzanne if you plan to have your child take ONE (specify which) or TWO classes and she will send you the appropriate books or make them available for you to pick up at CTR. Coursework begins this month (August) at a suggested pace, but you may work as quickly or as slowly as you need to; however, work for Sunday night check-ins must be completed PRIOR to that check-in night.
Thank you for your support, and please keep your children and the ministry of Christ the Redeemer in your prayers.
SUNDAY AM CLASS
30-Lesson Bible Overview
(Green Workbook)
9:30-10:30 AM in the Church Library.
Please bring your workbook, folder, and Faith Alive Bible.
SUNDAY PM CLASS
60-Lesson Small Catechism
(Blue Workbook)
Next class is 3:00-5:00 PM on September 27 in the Fellowship Hall.
Please bring your workbook, folder, Faith Alive Bible and Luther's Small Catechism.
National LCMS Youth Gathering

What is the theme for the 2022 LCMS Youth Gathering?
The theme for the 2022 LCMS Youth Gathering is "In All Things" and is centered around Colossians 1:15-20.
When and Where is the 2022 LCMS Youth Gathering?
The next LCMS Youth Gathering will be July 9-13, 2022 in Houston, TX.
What is the LCMS Youth Gathering response to COVID-19?
We are proceeding with planning toward a 2022 Youth Gathering. We are in continual conversations with the City of Houston, government officials and Synod leadership monitoring the developments of COVID-19. We will make decisions with the highest priority of safety and care of Gathering participants. It is out prayer that God would continue to lead us through this time of uncertainty and give us wisdom when presented with new information.
What Are the Age Requirements for Participants?
The LCMS Youth Gathering's primary focus is for youth participants between the ages of 14 to 19. To register for the 2022 Gathering, youth participants must meet ONE of the two following eligibility requirements:
– Must be 14 years old at the time of the Gathering
OR
– Entering his or her ninth-grade year at the time of the Gathering.
While we do allow students from the ages of 14 to 20 to attend, please keep in mind that some of the program content may not be relevant to older youth participants.
When Does Gathering Registration Open?
Registration for the Gathering opens in the fall of 2021. Official dates will be released at a later date.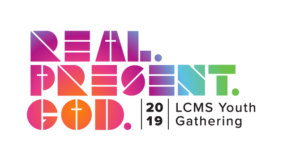 The next LCMS Youth Gathering will be in 2022 in Houston, TX!
Registration will open in Fall 2021.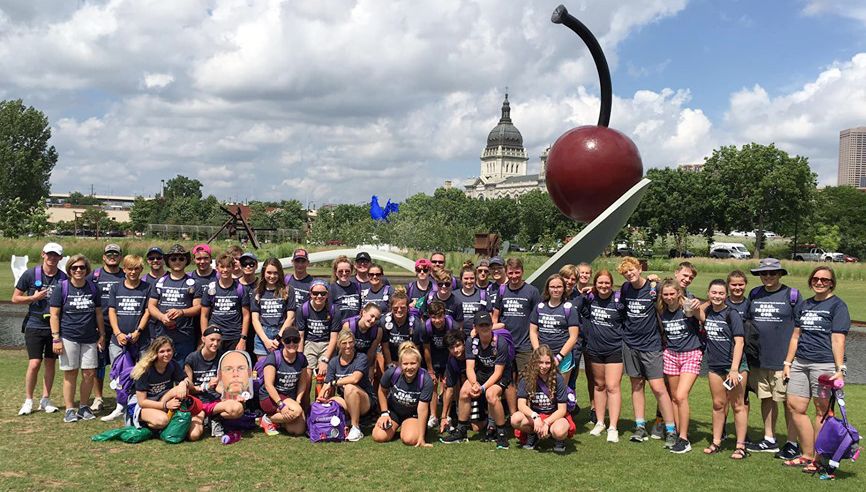 Awesome pic from 2019's LCMS Youth Gathering.