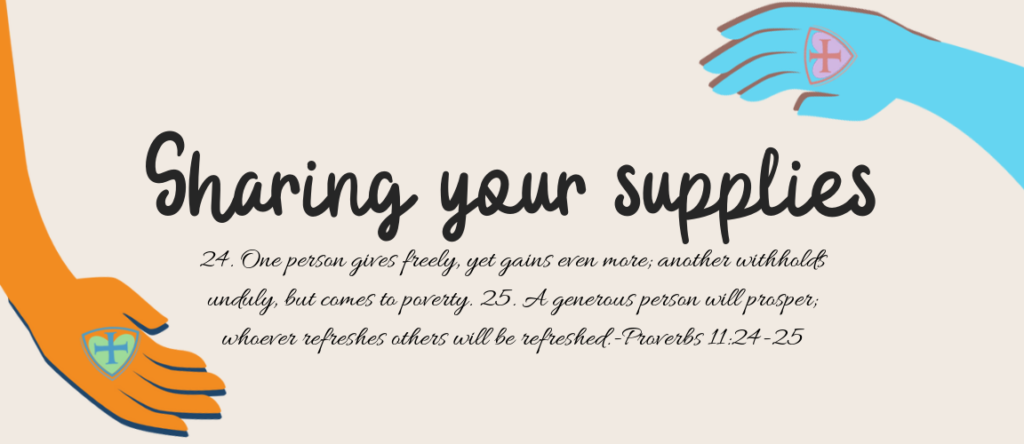 COLLECTION CENTER
WORLD RELIEF SCHOOL KITS: CTR will be collecting these items during the months of July and August. You can collect individual items or enough to complete one or more kits. Collection boxes will be located near the south entrance. If you have any questions, please feel free to contact Lynne Kollock at 918-298-0717;

rsk75@hotmail.com.
Items for the school kits include:
four 70-sheet notebooks of wide or college-ruled paper; no loose paper

1 ruler w/30-centimeters and inches – 1 pencil sharpener; 1 eraser

1 blunt safety scissors – 5 #2 pencils w/erasers (secure w/rubber band)

5 ballpoint pens (no gel ink-secure w/rubber band) – 1 box of 16-24 crayons

1 sturdy drawstring backpack-style cloth bag (app. 14×17" with shoulder straps–no standard backpacks)
COUPONS FOR THE TROOPS is back! You can drop off any and all coupons to the collection box at t

he s

outh entrance.
MOST Ministries collects eyeglasses and distributes them to people all over the world. They a

lso provide local missionaries the opportunity to share the Gospel to those receiving the glasses. A collection box is located at the collection center. Please help support this ministry which began in the Michigan Di

strict. For more information go to

www.mostministries.org
SOUTH TULSA COMMUNITY HOUSE assists over 700 clients in a month! The house uses between 1200 to 1300 plastic and paper bags (with handles) a month! So bring your extra bags to the food cart. We are in great need of just about everything "canned," as well as other proteins such as dried beans, peanut butter, meat based soups. We also need clean and labels removed prescription bottles which we use to distribute shampoo, body wash/soap and the like. They request that you not donate any Ramon noodles. These items can be placed in the grocery cart at the south entrance.
RECYCLING (GENERAL): Place your leftover magazines, junk mail, paper and plastic items in the bin on the southeast corner of the parking lot. Recycling now takes everything except glass. Please remember no soiled paper products.
A STUDENT LOAN REIMBURSEMENT PROGRAM has been established and will be operated under the following general terms and conditions: (1) the program will be available to called staff; (2) the program will be funded by designated contributions; (3) support paid will be connected to the student loans and will be paid over the terms of the loans; (4) support paid will be connected with the continued service of the recipient; and (5) the program will be administered by the Personnel Committee. If you would like to support this program, please designate your contribution to the Student Loan Reimbursement Program.