CANCELLATIONS AND POSTPONEMENTS:
Monday
Tuesday
10:00 am Sew N Sows
Wednesday
7:00 pm Choir
Thursday
OWLS
Friday
9:30 am – Ladies' Bible Study
Sunday
9:30 am- Sunday School
No church nursery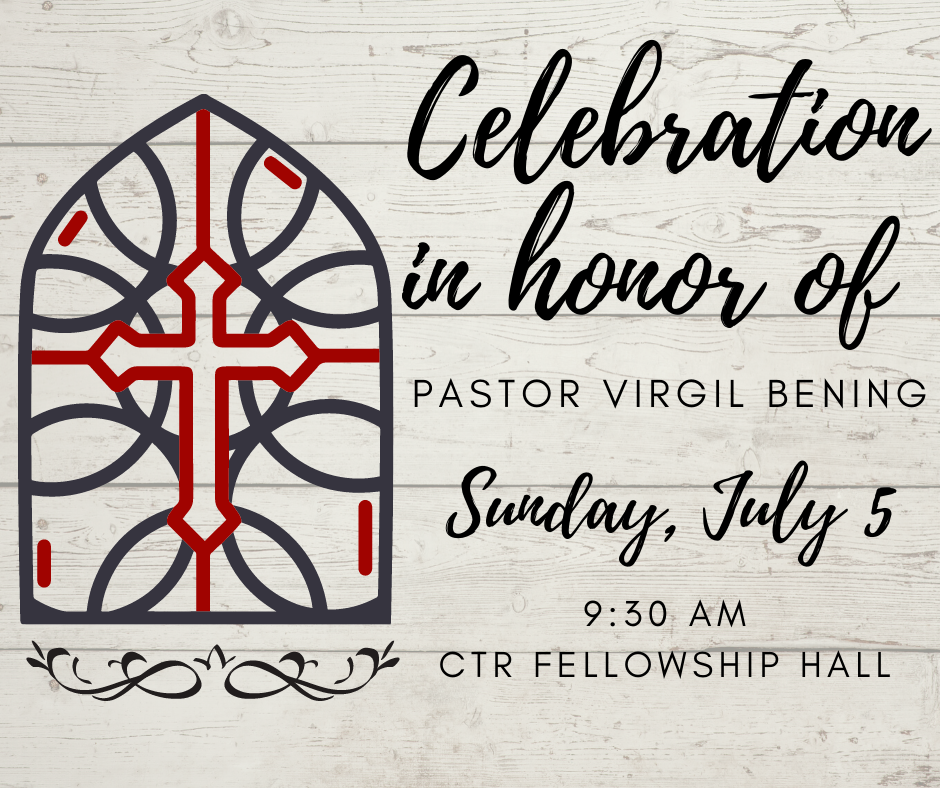 For the Instagram follow: ctrtulsa or click
HERE
For the Twitter account use: @PastorBe_CTR
NEWSLETTER: Check the church website to read the online newsletter.
LOVE GATHERING for ECC is in May. Please donate Kleenex, paper towels, non-scented wipes and Clorox wipes for their classroom use. Containers are placed at the south entrance.
GIVING: As we continue to do ministry, even in the time of being physically apart, your faithful giving is a blessing to Christ the Redeemer and your community. We thank you in advance for continuing to keep the ministry moving forward at Christ the Redeemer.
Here are some options for sending in your tithes and offerings to CTR:
1. Online: You can visit
www.ctrtulsa.org/on-line-giving
to sign up through Vanco for one-time or ongoing offerings or donations. This allows you to set up weekly, bi-weekly or monthly giving.
2. Smartphone: You can contribute through GivePlus Church, our mobile giving app. Go to the App Store or Google Play and search for "GivePlus church" to download it for free.
3. Vanco Client Services: You can call 1-800-675-7430 to give your offering for Christ The Redeemer by phone.
4. Mail: You can mail your offering in your offering envelope to the church office: 2550 E. 71st St., Tulsa, OK 74136.
SOUTH TULSA COMMUNITY HOUSE:
We are in great need of just about everything "canned," as well as other proteins such as dried beans, peanut butter, meat based soups. We also need clean and labels removed prescription bottles which we use to distribute shampoo, body wash/soap and the like. They request that you not donate any Ramon noodles.
COLLECTION CENTER: Please remember to collect food and household supplies for South Tulsa Community House; various labels for ECC (check out the collection center for a list); various coupons for the military; eye glasses for MOST Ministries. All these items can be dropped off at the collection center at the south entrance.
CTR YOUTH SUMMER MISSION TRIP IN SANTA ROSA BEACH, FL. JUNE 2020! We will be hosting a VBS for Hope on the Beach Lutheran Church and doing other local mission opportunities as well as enjoying the beach!we will be leaving on June 20 with VBS the week of the 22-26 and returning Sunday, June 28.
As of May 10, this trip is still planned as previously scheduled. The final payment for the rental homes is not due until May 21, so a final decision will be made by May 15. Please contact DCE Suzanne to let her know if your youth IS or IS NOT planning to attend. If hosting a VBS is not possible, we will plan to go and enjoy the beach and do our own mission projects while there. For more questions, please contact DCE Suzanne.
CAMP LUTHERHOMA:
Summer Camp is still in the plans. They will be making a decision about the status of summer camp mid-May. For more information:
www.lutherhoma.com
.
WIDOWS & WIDOWERS BIBLE STUDY
is held in the library at 10 AM on Wednesdays with Pastor Burmeister and will resume on July 8.
LADIES BIBLE STUDY is held in the library at 9:30 AM on Fridays with DCE Suzanne. All ladies are invited to attend. This class will tentatively resume in August.
WOMEN'S RETREAT: Camp Lutherhoma has had to cancel all retreats. When a new date is scheduled, it will be communicated.
SUNDAY SCHOOL is now online! Go to https://www.ctrtulsa.org/sunday-school/ for a video each week.
You can also find other lesson information on the church website that you will be able to print at home.

VBS: Due to the social distancing guidelines in place, VBS is postponed.
THIS SUNDAY AT CTR:
Worship at 8:15 & 10:45 – Sunday School at 9:30
Children's Message: Pastor Burmeister
Acolytes early: …- late: …
Adult Bible Study in the Fellowship Hall and Kitchen & Conf. Rm behind the library
Women's Bible Study on Fridays at 9:30 in the library
For service Scripture readings go to www.lutherancalendar.org
VBS:
Join us for a packed week of fun, fellowship and Bible study as we learn what it means to LIVE FULLY ALIVE! Participants may register online at:
https://goo.gl/forms/fktXVDsRTJTl44mA3
or check out the CTR website or Facebook page for a direct link!
VBS DONATIONS: Look on the library windows for the multi-colored "A" signs. Non-perishable donations should be brought by Friday, June 8 and non-perishable items can be brought June 8-10. There are also tags for "volunteer snacks" for each day. Items can be pre-bought or homemade and should arrive by start time at 9:00.

ACOLYTE SCHEDULE for July-September 9 is ready for sign ups. It's located on the family ministry bulletin board near the library.

WIRED WORD SUNDAY SCHOOL CLASS: Sunday's Wired Word topic will be "Starbucks Closes for Afternoon of Anti-Bias Training for Employees". This class is held in the library and weaves current events with Biblical study. Join them as they explore current events each and every week.
Summer Sunday School Volunteers Needed! From June– August, Children's Sunday School will be held in the gym. Each week we need 4 volunteers to lead stations. If you're interested in more information or would like to volunteer, please check out the display in the narthex.
CLUB 345 DAY AT THE PARK: On June 23 from 4:00-6:00 p.m. all second, third, fourth and fifth graders will be spending the afternoon at Lafortune Park! Please bring a packed dinner for a picnic and some games to share. This will be Carinna's first event as an intern and a great way for Club 345ers and parents to meet Carinna! If your child is interested email Amanda Stein at stein.n.amanda@gmail.com.

FAMILY FUN DAY: Families young and old are invited to a family fun day on the front lawn of Christ the Redeemer on July 28 from 10:00-2:00. Come and enjoy hotdogs, hamburgers, snow cones, bounce houses, lawn games and more. Bring a side dish or dessert. Sign ups for this event will be in the back of church by the FCM bulletin board.

SUNDAY SCHOOL PICK UP: Starting June 3rd, we are asking that parents pick up their child from Sunday School each morning at 10:30 in the gym. This will allow our new intern to meet your family and prevent liability issues during the hectic summer months.

INSTALLATION & RECEPTION: All members are invited to join us as we welcome our DCE Intern, Carinna Corbett, on Sunday, June 17, at 9:30. There will be a gift box for collection of cards. If you wish to give Carinna a gift to help with any items she needs for her apartment, please purchase VISA and Target gift cards. Carinna will be installed at both services.
SENIOR FRIENDS will go to lunch on June 10 at Napa Flats
BRAILLE WORKSHOP will not meet in the summer. They will resume in September.
BUNKO will meet at Teresa Nightingale's home on June 12 at 7:00. There is a sign up.
OWLS will meet on June 28 at 11:30 at Incredible Pizza for lunch and program. Brad Teegarden will be the speaker.
---